I went to lunch today with two high school friends that I hadn't seen in 5 years. That's over a fifth of my life span!

They asked what I would be up to for the next few days and I told them about how I'd be spending my Sunday at Cupcake Camp.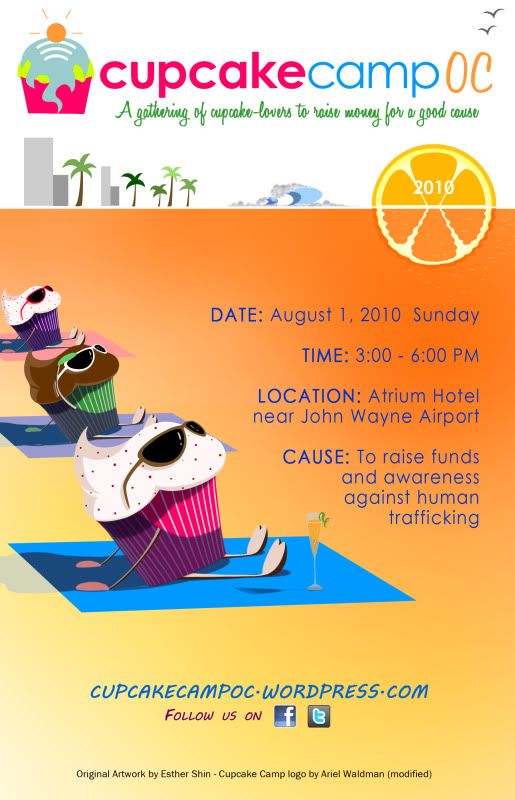 After they laughed at me, they were really curious about what that involved.


One of Cupcake Camp's Baking competition categories is "Most Childhood-Inspired" which made me immediately think of breakfast cereals...and then I thought about Cinnamon Toast Crunch.
Since there will be over 5,000 cupcakes at Cupcake Camp this year, I decided mini-cupcakes would be best so that people can maximize their cupcake consumption.
I first heard about Cinnamon Toast Cupcakes from Anne Byrn, in her book
Cupcakes from the Cake Mix Doctor
. She recommends topping Cinnamon Toast cupcakes with a Cinnamon Cream Cheese Frosting, but in addition to
not
using her recipe for the cupcakes, I also decided against the Cream Cheese Frosting.
I was working on a Vanilla Bean Buttercream...and then my whisk broke. So of course I had to stop and take a picture.


No broken whisk can stop me when I'm on a mission. Especially if it's a delicious mission.
Basic Golden Cake

(adapted from The Cake Book by Tish Boyle)
Makes 55 mini cupcakes



3 1/4 cups (325 g) sifted cake flour
1 tablespoon baking powder
3/4 teaspoon salt
1 tablespoon ground cinnamon
1 cup (2 sticks/8 oz) unsalted butter, softened
1 1/2 cups (300 g) granulated sugar

3 large eggs
2 large egg yolks
2 teaspoons vanilla extract
1 cup (250 ml) fat free milk
1/3 cup prepared vanilla pudding

Position a rack in the center of the oven and preheat the oven to 350°F. Prepare pans, as necessary.

Sift together the cake flour, baking powder, salt and cinnamon into a medium bowl. Whisk to combine, and set aside.

In the bowl of an electric mixer, using the paddle attachment, beat the butter at medium-high speed until creamy. Gradually add the sugar and beat at high speed until light. Reduce the speed to low and add the eggs and egg yolks one at a time, beating well after each addition and scraping down the sides of the bowl as necessary. Beat in the vanilla extract.

Add the flour mixture at low speed in three additions, alternating it with the milk (and pudding) in additions and mixing just until the flour is incorporated. Scrape the batter into the prepared pans, dividing it evenly, and smooth the tops.

Bake the mini cupcakes for 20 minutes, (about 23 minutes for regular cupcakes), until lightly browned around the edges. Cool the cakes in the pans on wire racks for 15 minutes. Invert the layers onto the racks and cool completely.

Store at room temperature, covered in foil, for up to 5 days.
Vanilla Bean Buttercream Frosting
Very slightly adapted from Cupcake Project

1 1/2 C powdered sugar (add more until it reaches your preferred consistency)
1/2 C unsalted butter, at room temperature
1/4 teaspoon salt
2 teaspoons vanilla bean paste (I used the vanilla beans scraped from ½ a pod and 2 teaspoons of vanilla extract)
1 tablespoon milk (similarly to the powdered sugar, adjust amount as necessary)

Blend sugar and butter until creamy. Add vanilla bean paste [or pulp plus pure extract], salt, and milk and continue to beat for another minute. If desired, add more powdered sugar to make it stiffer, or milk to make it less so.
When cupcakes are cool, frost with Buttercream Frosting and top with Cinnamon Sugar or crushed Cinnamon Toast Crunch breakfast cereal.
Since I had so many cupcakes to frost, I ended up adding about another 3/4 cup of sugar and another
1 1/2 tablespoons of milk to get my desired amount/consistency; (without having to add more butter or vanilla beans). The frosting is delicious, and reminds me a lot of vanilla ice-cream. They were great on the cupcakes, and even better on a regular-sized cupcake!